Lenses are the transparent pieces that you look through when wearing glasses. They're customized to your prescription, which means that they refract light in a way that corrects your vision issues..The most common issues are being nearsightedness, farsightedness, and astigmatism.

You might need single-vision or multifocal lenses, such as progressives, which is based on your prescription.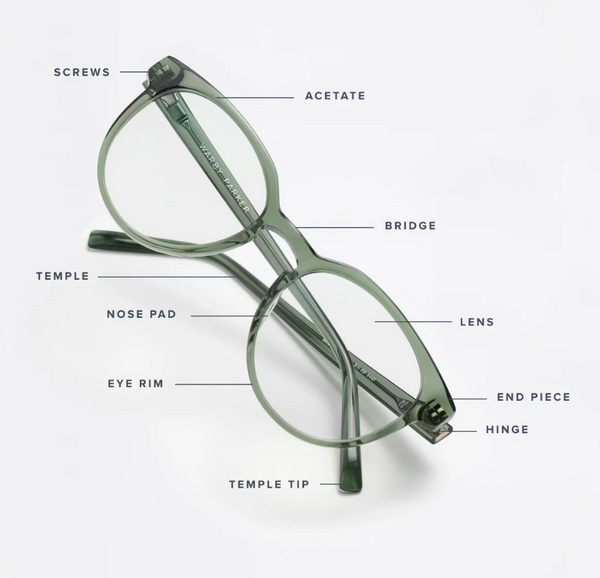 Frames
Frames have many separate components that enable them to sit comfortably in front of your eyes.

Rims: The part of the glasses frame that holds the lenses. Some glasses have full rims, while others might be semi-rimless or rimless.

Bridge: A crucial part of the eyeglasses frame, the bridge supports the majority of the frame's weight. It's the connective bit of material between the two rims that lays across the bridge of your nose.

Top bar: Sometimes, a pair of glasses will sport what looks like a second bridge above the first one. This bar is called a top bar, brow bar, or sweat bar.

Nose pads: The tiny, cushion-y parts that sit on your nose to further assist with fit and keep your glasses from slipping.

Hinges: The hinges are joints that are held together by a screw, and they connect the endpiece part of your glasses to the temples or arms.

Temples or Arms: The two long, skinny parts of your eyeglasses that attach via the hinge and stretch back to sit over your ears.

Temple tips: Also known as earpieces, the ends of each temple. The temple tips of metal glasses are sometimes made of a different, more comfortable material that prevents skin irritation.